I. ABOUT
I am a California-based Burmese international student— the only one at Mills College. In response to seeing how the
military coup
in my home country of Myanmar
was not acknowledged thoughtfully in the West, I decided to start a mutual aid initiative. Respectfully named after
Burmese mohinga noodles
, The Mohinga Project is more than just my senior thesis— it is the culmination of years of self-directed learning and resistance to the boundaries of military censorship.
So far, I have initiated activities including but not limited to: political actions (starting with an open letter), interviews about how to join in the effort to support Myanmar's democracy, guest speaker appearances, explainer videos with culturally significant recipe sharing, and other fundraising efforts. Together, all the components of my thesis are cohesively asking Americans to extend beyond their borders for democracy and give what they can offer to provide material support to people in Myanmar.
🍜 Key Skills
public speaking, digital storytelling, fundraising, event planning, content strategy
🍜 Partnerships
Student creatives: Layla Solatan (founder of Cubby Doodles & brand illustrator) and Pinky Kaung (resources page designer)
Thesis advisor: Keli Dailey (professor & department head of Communications & Journalism at Mills College)
Events: Associated Students of College of San Mateo, Haifa Algabri (Muslim Student Alliance), Husain Ahmad (Malaysian Democratic Action Party), Miemie Winn Byrd, E.d.D. (Daniel K. Inouye Asia-Pacific Center for Security Studies), GWU International Students Association, Professor Christina Fink (George Washington University)

Press: Allison Rost (Mills Quarterly), Joy Carson (Golden State Warriors)
🍜 Timeline

Feb 2021 - Present
🍜 Technologies Involved

II. INDEPENDENT DIGITAL INITIATIVES
🍜 Open Letter to Mills College Administration (Feb 28)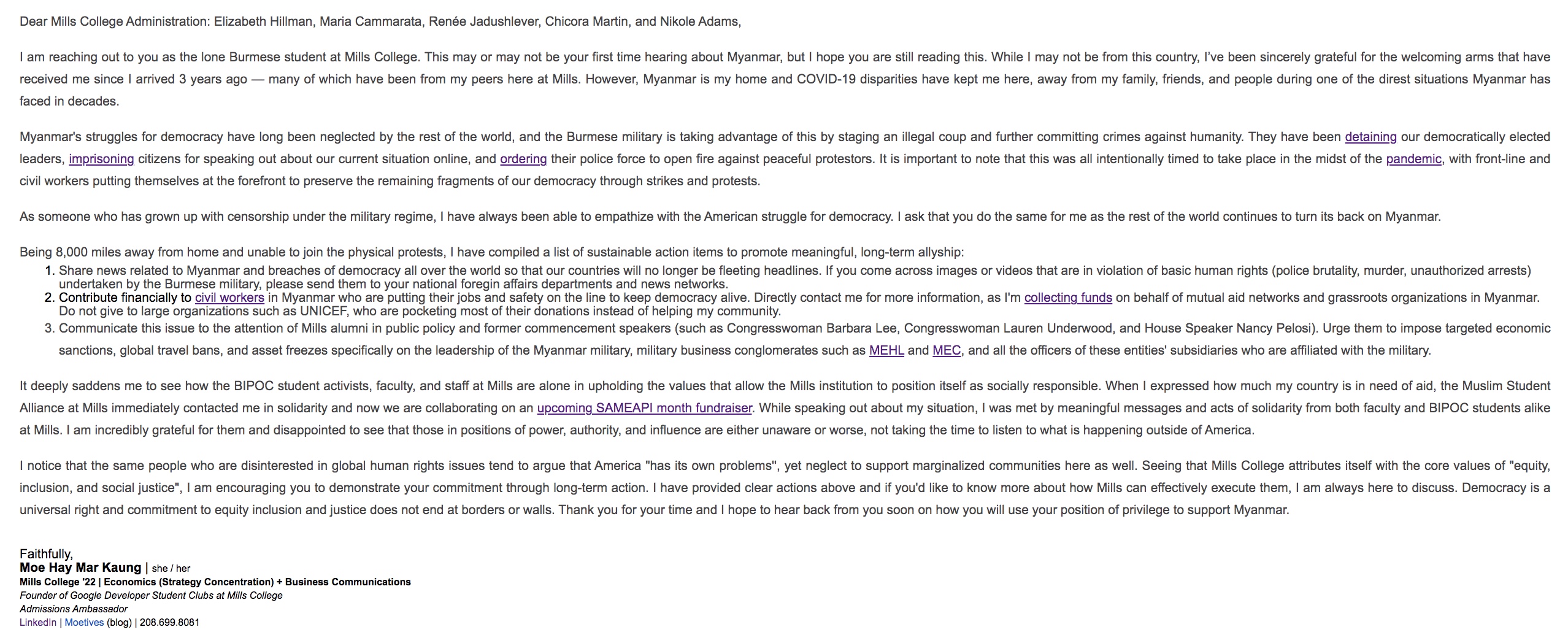 Impact:
Elizabeth Hillman, President of Mills College, shared my fundraiser in the Mills Inside and Out email newsletter.
Center for Transformative Action at Mills College offered to share information on Myanmar on their social media pages.
Kate Karniouchina, Dean of Lokey School of Business and Public Policy, pledged financial support ($200 donation).
Mills and non-Mills BIPOC faculty and students alike showed solidarity for people affected by the military coup in Myanmar.
🍜 Mohinga Fundraiser for Myanmar (Mar 3 - Present)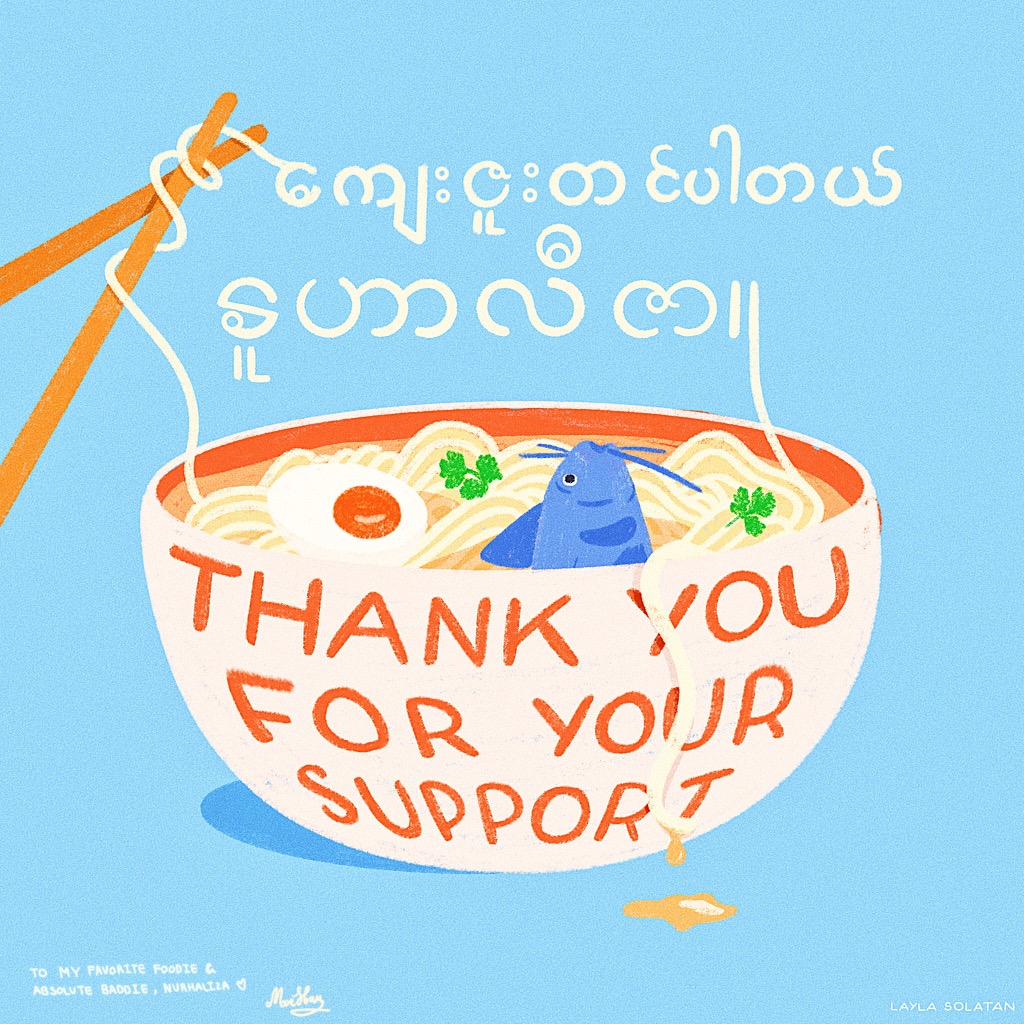 Impact:
Partnered with Muslim Student Alliance for SAMEAPI month to host awareness event (with both Mills and non-Mills attendees)

Facilitated organic discussions around performative activism at Mills, lack of global alumni relations (Hong Kong and Southeast Asia), and how that ties into lack of administration solidarity for BIPOC students

Partnered with Cubby Doodles to create custom illustrations of Mohinga noodles with individual donors' names handwritten in Burmese
III. GUEST PANELS & SPEAKER SESSIONS
🍜 George Washington University: The Military Coup in Myanmar & Moving Forward (Mar 11)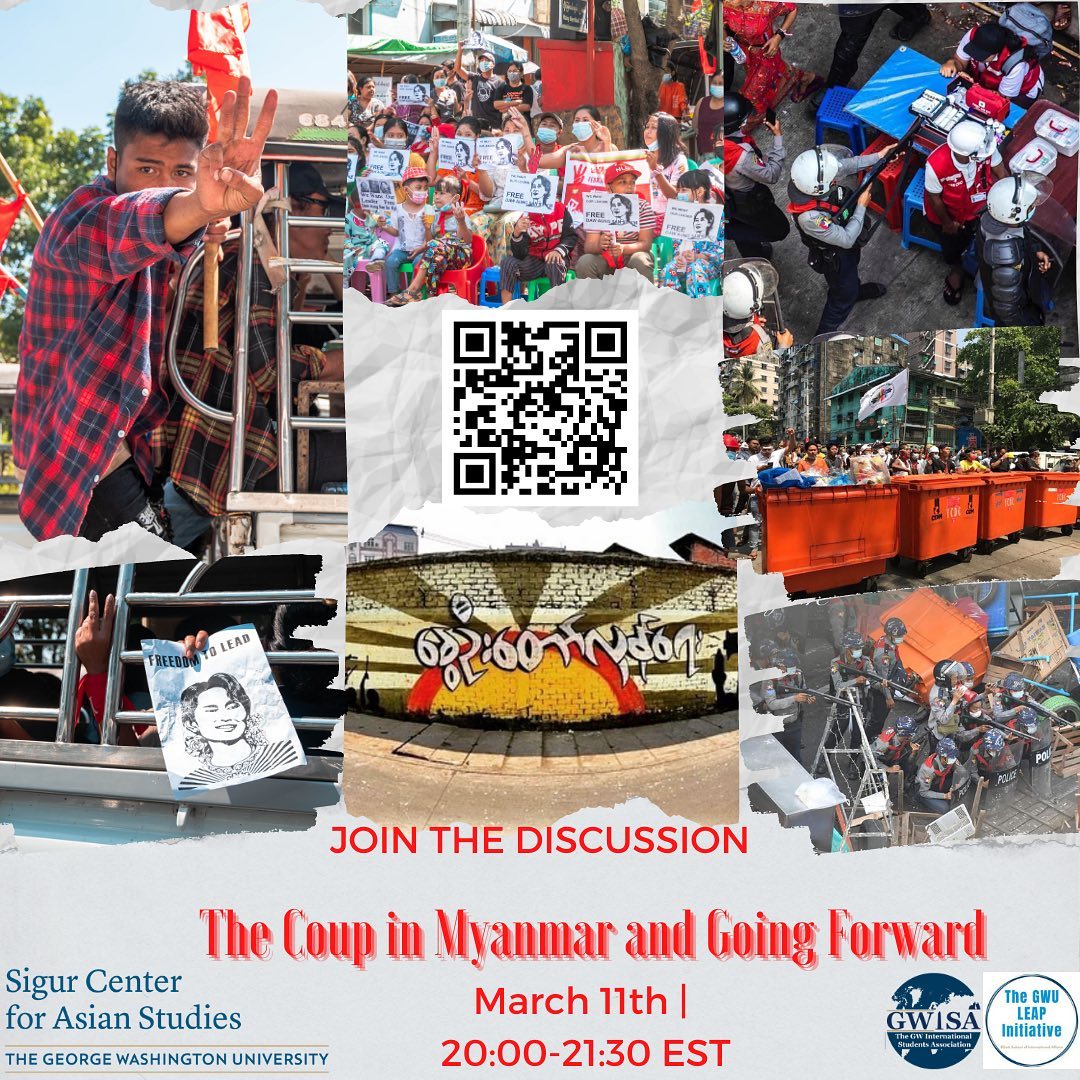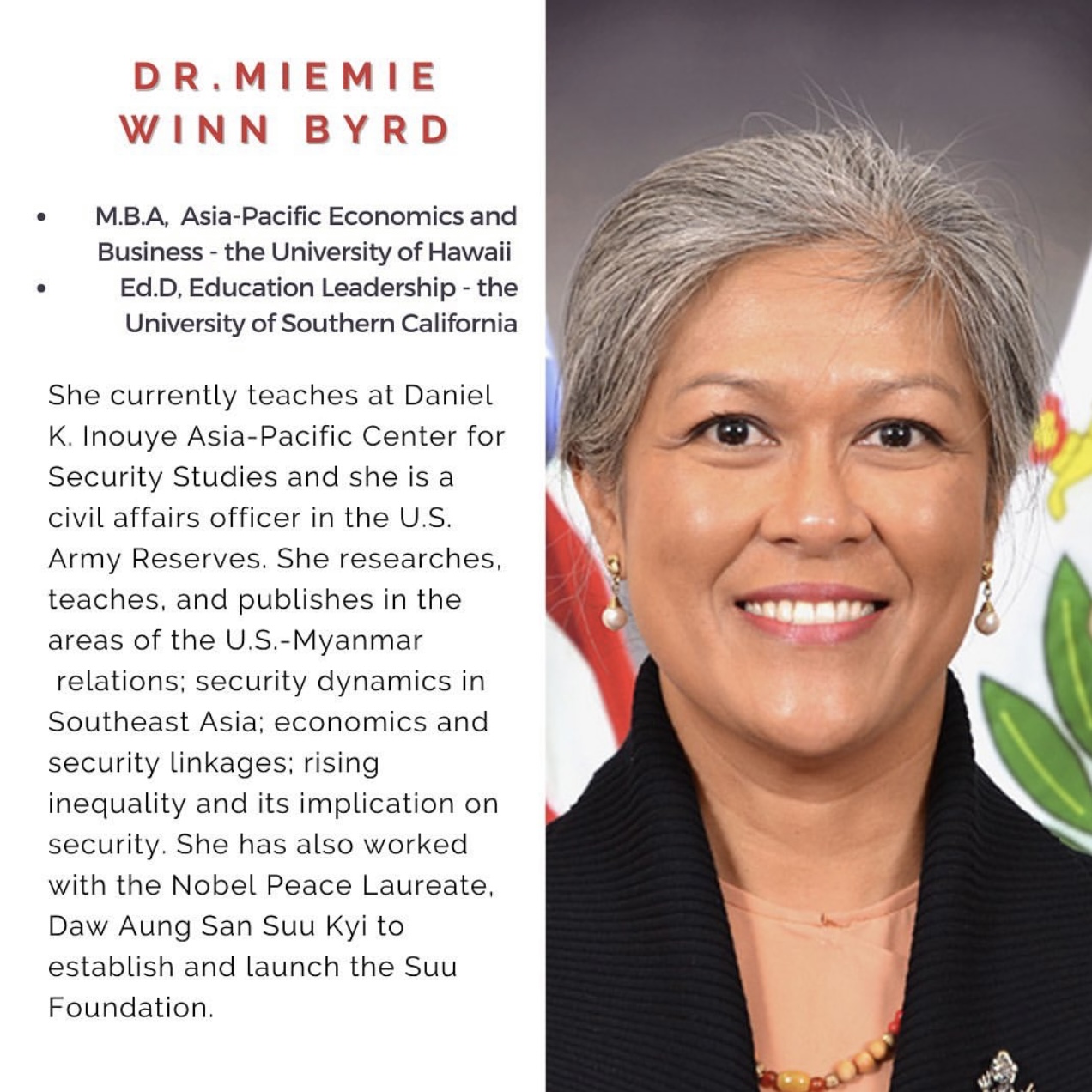 Context: George Washington International Student Association (GWISA), the LEAP Initiative, and the Sigur Center for Asian Studies invited Professor Christina Fink as the moderator, Dr. MieMie Wynn Byrd as our expert panel speaker, and two Burmese students (myself included) to discuss the most recent coup that took place in Myanmar on February 1, 2021. For security reasons, this event was not recorded.
Impact: The implications of this coup on military-civilian relations were discussed through an analysis of the motives behind this coup and the evolution of protests within the country, and a reflection of the military's (Tatmadaw) role throughout the country's history. This event also served as a platform to highlight the role of Myanmar's next generation in the movement by featuring a film compiled, edited, and animated by youths themselves.
🍜 College of San Mateo: Myanmar Student Panel (Mar 11)
Context: I was invited to speak alongside fellow Burmese student activists at this panel by the Associated Students of College of San Mateo.
Impact: To educate the non-Burmese collegiate community of the military coup that occurred in Myanmar. To bring awareness and stand in solidarity with the Burmese community. Provide resources for Burmese students and ways the community (individuals and orgs) can help. To ask for District support - our end goal is to condemn what's happening and support Burmese students through meaningful statements of solidarity.
🍜 Mahasiswa Roket: Across Borders: What's Happening in Myanmar? (Apr 16)
Context: I was invited to speak at this political webinar session hosted by Mahasiswa DAP (student wing of Malaysia's largest political party, Democratic Action Party). The 'Across Borders' webinar is a series that their organization had been conducting for the past 3 to 4 months.

Impact: The issues we discussed encompassed the status quo, the future of Myanmar's governance and the fate of its people, and the necessity of mutual aid for continued resistance.

IV. WRITTEN CONTENT & RESEARCH
🍜 Golden State Warriors Daily Email (Mar 25)
Context & excerpt by Joy Carson, Mills alum and manager at Golden State Warriors:
"I wanted to speak up via The Daily because I found out last week that Mills is closing its doors as a college and planning to become the Mills Institute, with very little explanation of what that means. It won't even graduate the students who are there right now. It is going to stop granting degrees in 2023, even though the administration just accepted an incoming class for Fall 2021. I have joined a grassroots campaign to #SaveMills, and to demand transparency into how the administration made such a unilateral decision with no warning and what options might still be available to preserve its value as a degree-granting organization. I
wanted to take this opportunity to amplify the voices of a few of the Save Mills coalition members who are current students, working tirelessly to advance BIPOC & AAPI causes even amidst all the uncertainty."
My written contribution:
"I have currently been 8,000 miles away from my home country of Myanmar for over a year already. While Mills is keeping me safe and sound, I primarily worry about how the lives of my family and my fellow citizens are at stake. A few weeks ago, my family heard gunshots near our home for the very first time in their lives when the police opened fire on peaceful individuals who were protesting the military coup.
Our women are putting themselves on the front lines to protest while facing the risks of sexual assault. Our freedom fighters are getting arrested in the middle of the night by the same forces who were sworn in to protect us. Our civil workers are putting their lives and jobs on the line to protest against countless years of censorship, racial gaslighting, and generational trauma that the Burmese military inflicted upon our people. We are all trying our absolute best to preserve the remaining fragments in our home country.
When I penned an open letter as the only Burmese student at Mills College about the current military coup in my home country of Myanmar (8,000 miles away from here), I was immediately met by meaningful messages and acts of solidarity from both faculty and BIPOC students alike at Mills. The Muslim Student Alliance, along with other incredible BIPOC-led clubs at Mills College, gave me much-needed support to host a night of meaningful discussion about why democracy matters beyond borders and specific gaps that those with privilege should address. I received the honor of representing Mills and spoke at several student panels (George Washington University and College of San Mateo) about Gen Z activism on the rise in Myanmar amid the coup. Mills even gave me the courage to start my own mutual aid initiative called
The Mohinga Project
, where I partnered with student artists to create custom illustrations of Mohinga noodles with our donors' names in Burmese to individually thank each of them for their contributions. So far, we've given 100% of our proceeds in the name of Mills faculty, students, and non-Mills connections to over 723 civil workers, journalists, and protestors in Myanmar."
🍜 Mills Quarterly Interview & Feature (Mar 27)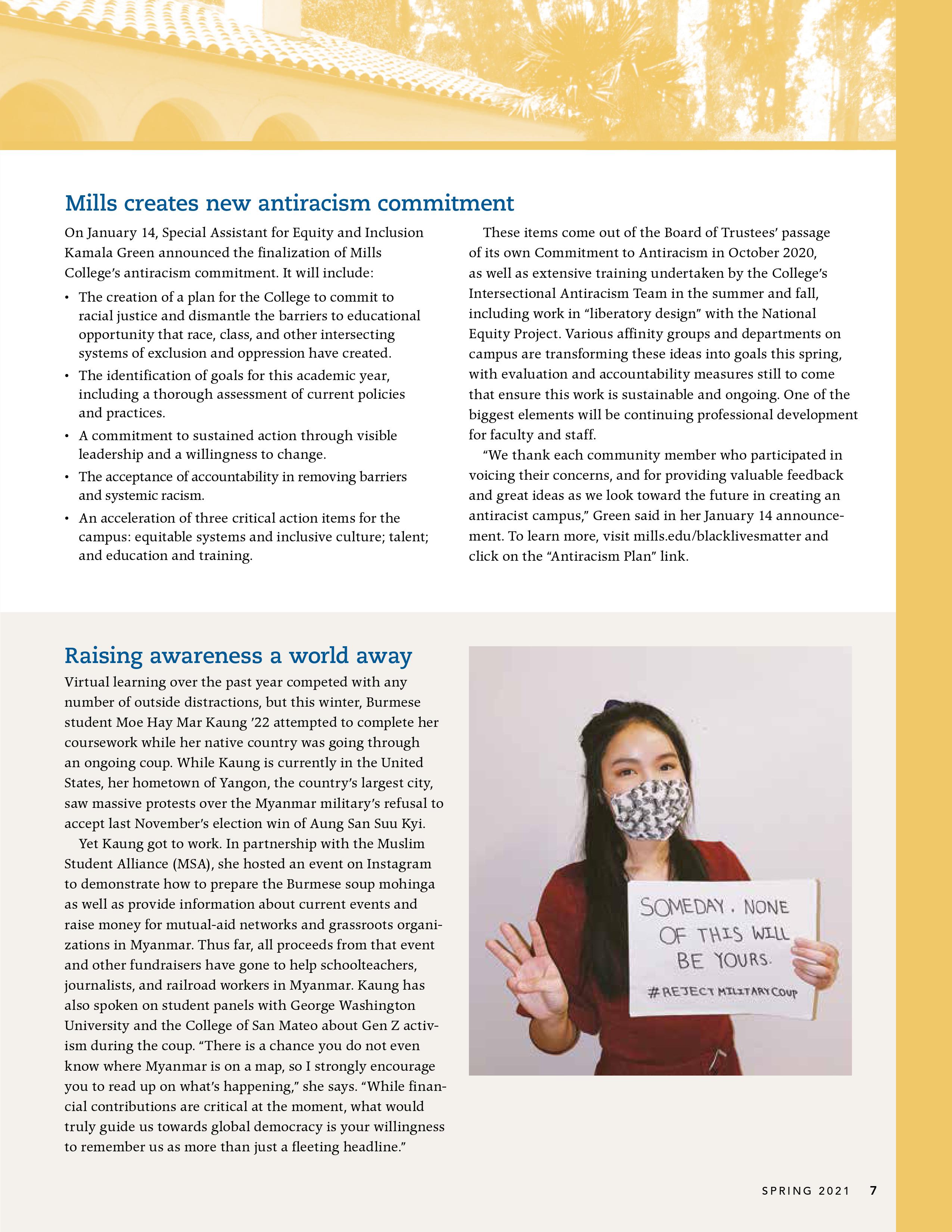 🍜 Mills College: International Finance Roundtable Discussion (Apr 29)
After raising over $3,200 USD (over 5,000,000+ Myanmar Kyats), I decided to allocate 100% of these funds on a case-by-case basis according to areas of Myanmar that are in most need during the coup. I matched the contributions of all my donors to Myanmar communities based on their shared identities. Here are the communities The Mohinga Project has impacted so far:
300+ public schoolteachers in Thanlyin
Donor segment: college professors, teachers, and students majoring in education
30+ journalists at Myanmar Now



Donor segment: communications professors and students majoring in journalism
90+ railroad workers in Kanbe



Donor segment: human rights advocates from all backgrounds

300+ low-income families in South Dagon

Donor segment: human rights advocates from all backgrounds
600+ families engaging in the Civil Disobedience Movement

Donor segment: human rights advocates from all backgrounds
🍜 Recognition
Title of Award: Global Citizens Leadership Award (2020-2021)
Awarded By: Mills College
Description: The Global Citizens Leadership Award recognizes a student who demonstrates social justice advocacy in service to international issues and global justice. The Student Leadership Awards are given to current Mills College students who have had an extraordinary and positive impact on the college community, including achievements within the college at large and the larger community.
🍜 Mills College TED Talk: Senior Thesis in Communications Show