I. ABOUT
In a post COVID-19 world, how can we best support small business owners and low-tech individuals who have been disproportionately affected by the pandemic? Resprout is a hyper-localized platform designed to aid our communities through matching BIPOC-owned businesses with volunteer partners facing barriers to work opportunities.
This product started as my initial idea and evolved into a submission towards the
2021 Google Developer Student Clubs (DSC) Solution Challenge,
thanks to my
Google DSC Mills College
team.
Google Developer Student Clubs
are community groups for college and university students interested in Google developer technologies. By joining a DSC, students grow their knowledge in a peer-to-peer learning environment and build solutions for local businesses and their community.
🌱 Key Skills
product management, market and UX research, content strategy & UX writing, digital storytelling
🌱 Team & Partnerships

🌱 Timeline

Aug 2020 - Present
🌱 Technologies Involved

Software (UX design, front-end & back-end development): Adobe XD, CSS, HTML, JavaScript
Partner integrations (Google products & services): Google Digital Garage, Google for Small Business (free Google Ads credits and digital skills training), Google Skillshop (training for Google Ads, Google Analytics, Google Marketing Platform, etc.), Qwiklabs (Google Cloud training), Grow with Google (Android dev, data analytics, project management, etc.), Web Fundamentals, Google Translate, Google Meet
II. MARKET RESEARCH & CONSUMER INSIGHTS
🌱 Key Pain Points & Opportunities for Growth
To identify and address pain points for our primary consumer segments (student volunteers and small businesses in the U.S.), our team released market research surveys with questions that assess technical literacy, existing community relationships, and awareness of Google products and services that sustain small business economies. Based on qualitative and quantitative insights from over 100 respondents, we identified the following opportunities for growth:
Imposter syndrome that stems from lack of accessible resources for students coming from marginalized communities, prohibiting them fr

om pursuing careers in the tech industry.
︎ Key gaps in accessibility: unreliable internet access, insufficient accommodations for disabilities, and lack of support for ESL speakers.

Inequitable barriers that prevent low-income and first-generation students from acquiring technical skills and honing non-technical skills.
︎ Notable barriers: lack of time (due to academics and employment), affordability of professional development resources, and reduced quality of free training programs.
Low capacity

for small businesses to hire volunteers or extra help.
︎ Reasons for low capacity:
lack of clear structure on how to onboard new volunteers and lack of financial compensation for volunteers.
Small businesses' increased awareness and reliance of social media and Google products.
︎ Top three Google products: 1. Google Workspace (Calendar, Gmail, Slides), 2. Google Translate, 3. YouTube.
🌱 Key Solutions & Recommendations
In order to address the existing gaps above, our solutions are driven by data from research surveys and 1-on-1 interviews. These actionable insights were designed around our key consumer segments (small business owners and student volunteers) and their needs:
Professional projects on behalf of small business clients for volunteers to hone technical and non-technical (i.e. marketing and UI design) skills, inclusive of all identities and levels of technical and educational literacy.
Options to accumulate college credit and volunteer hours that allow marginalized student volunteers to learn without compromising academics and employment.
︎ Examples of margninalized student communities, include but are not limited to: undocumented (
DACA
), BIPOC, and LGBTQ+ students.
Free and financially inclusive lessons, tutorials, workshops, and certifications provided by Google partner integrations (mentioned above in technologies section).
Emphasis on relationship building between small businesses and volunteers, and equitable matching application process to provide value and structure to replace what small businesses are unable to provide.
︎ Our data shows that the majority of volunteers are more interested in gaining transferrable skills and collaborating with small businesses that share similar identities or values as them over financial reward.
︎ Key criteria for equitable matching application process: duration of projects, existing tech and non-tech skills, and project areas of interest.
Key functions of web application: network independent (accessible for users who lack access to strong internet connections), progressive (usable on older browsers for those who cannot afford to purchase latest devices), responsive (usable on any device with a screen and a browser), and multilingual (Google Translation plugins for ESL speakers).
III. UX RESEARCH & USER INSIGHTS
🌱 User Personas

Small business owners: COVID Candyshop Carla and Coliseum Construction Charlie
Student volunteers: Technical Timid Teen and Non-Technical Novice
🌱 Key User Testing Insights
Users not only tested our solution but developed our solution. Since we started together to address the struggles of small businesses that have been exacerbated by the COVID-19 pandemic, we brought in various community perspectives to ensure a community-centered approach. Through a variety of case studies, user surveys, and in-depth interviews, we've received three key feedback points:
Our small business end-users struggled most with trying to locate content relevant to them and updating their own listings, due to time constraints and lack of technical knowledge informing us a small business directory (our initial solution) was not sufficient to promote small businesses.
Some of our volunteer end-users requested a section for success stories and testimonials to inform their decision of investing efforts and building tech skills through Resprout.
For both segments of end-users, the options to translate the platform into non-English languages and audio versions were hard to identify, as the dropdown menu for accessibility was not legible.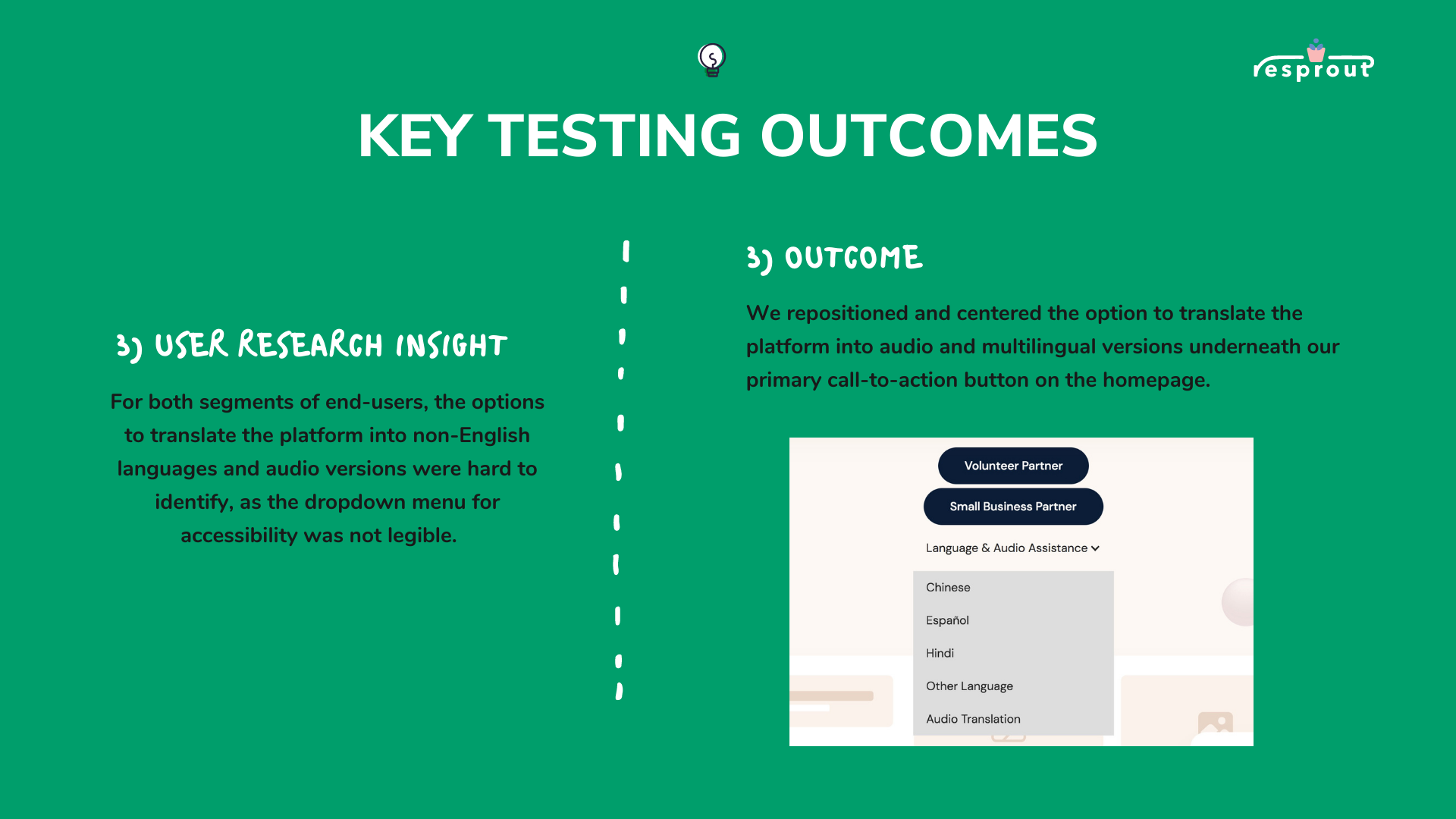 🌱 Key User Testing Outcomes
Within the course of a month, we decided to pivot our platform from a directory-based mobile application to a skills-developing web application, while our mission to support small business recovery from COVID-19 remained the same. This pivot was especially crucial for us to re-evaluate our tech solution for small businesses and include actionable, long-term involvement from community members:
We created two separate web pages for small businesses and tech-interested volunteers, with step-by-step instructions that guide them through the registration, matching, and finalization process.
We integrated user testimonials and case studies from real small business clients who benefitted from pro-bono tech services provided by our partners from The Meediya Lab.
We repositioned and centered the option to translate the platform into audio and multilingual versions underneath our primary call-to-action button on the homepage.
IV. PRODUCT & BUSINESS STRATEGY
🌱 Objectives

With the help of Google technologies, Resprout is designed to specifically address these 3 out of the 17
United Nations Sustainable Development Goals
(SDGs) as part of the 2021 Google Developer Solution Challenge:

🌱 Mission

The driving force behind how we will achieve these goals within our solution is through our local community. For patterns of community to cycle upward, we are choosing to begin in our own backyards. Given the fact that there are verified gaps in meeting the tech service needs of small businesses especially of Black, Indigenous, PoC, LGBTQ+, women and immigrant-owned small businesses impacted by COVID-19, this is whom our will platform center. The Google technologies we are leveraging will be able to sustain a new infrastructure for our marginalized communities and give us a chance to cycle upwards beyond this pandemic. We intend to disrupt the ways things have traditionally been done in the online presence and marketing of small businesses as well as professional development and mentorship of young people, both within an evolutionized need for technology brought on by COVID-19 and its financial impacts. Through an inclusive, cooperative, student-led online community invested in mutual aid and the regeneration of small business economy, our social platform is positioned to not only be an asset to local marginalized businesses in need of online presence and community, but also to tech-abled people of Generation Y & Z who face hardship in securing professional work experience during this economic downturn and high unemployment rate. There is a connection between the two that should not be ignored.
🌱 Vision
Integrating Google products and services, we intend to tap into the mutual aid and socio-economic development opportunity of our local community that hides in plain sight. We aim to jumpstart the social capital responsible for the reinvestment of BIPoC and immigrant-owned businesses during COVID-19 through equity for all stakeholders:
Giving students an immediate stake by connecting them with relevant projects for small businesses based on specific skills they seek and need to hone.
Providing integrated Google products and services that allow people from all levels of technical literacy to learn tech industry-relevant skills in supplment to their volunteer work.
Compiling community-based small business resources for financial literacy, access to non-profit networks (grants and mutual aid funds), workplace and COVID-19 safety guidelines, and more.
🌱 Strategic Alliances
Our main community partner is with Professor of Business Practice at Mills College, Darcelle Lahr. Professor Lahr has spearheaded numerous community-centered projects, research included, that highlights the economic disparities experienced by Black-owned businesses in East Oakland, and has also been currently leading research addressing the impacts of COVID-19 on small businesses owners of Oakland. Prof. Lahr also holds positions as president and CEO of Integral Consulting Group, a woman/minority-owned management consulting practice. Given her expertise in small business consulting, she is an integral Mills-faculty mentor of our Google DSC project and growth strategy. Her current research corroborates the need for more access to education, community, and capital for small business owners navigating and hopefully surviving through COVID-19.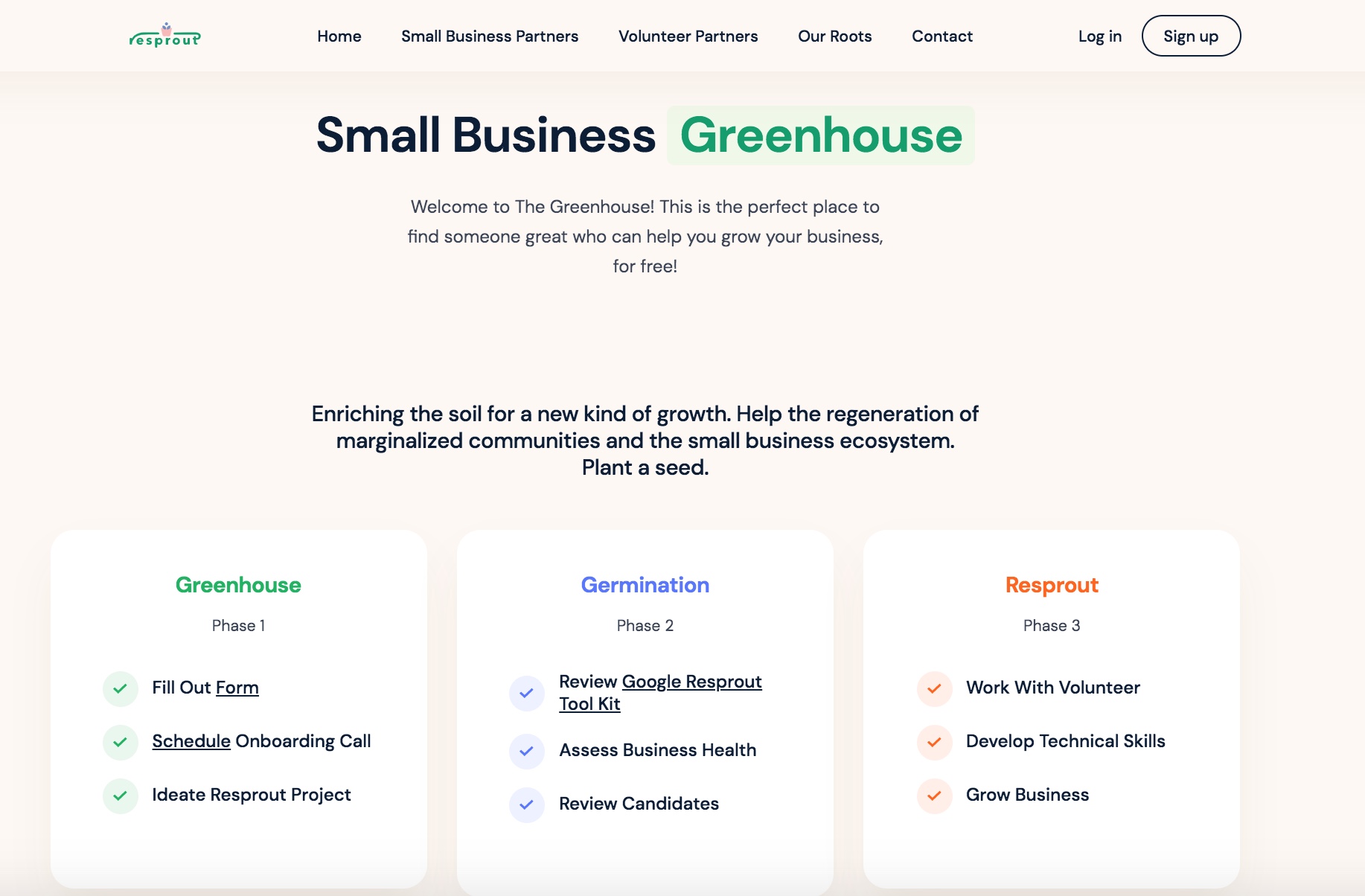 🌱 Value Proposition
The value presented with Resprout is to provide an inclusive online hub for mutual aid and community development primarily focused on students/tech-abled people to volunteer their services to small marginalized businesses in need. These are the two primary stakeholders that we design value delivery around in which any other secondary stakeholders such as consumers are able to contribute to a sustainable model and promote buzz around the small business economy. The value is that small businesses are able to receive highly tailored up-to-date online presence through digital marketing services such as social media management or web development provided by tech-abled student volunteers that are in return receiving specialized mentorship and work experience that is benefiting their local community. For young minorities entering the world of professional development they face huge disparities when competing for highly prestigious internships at large firms/clouted organizations. Furthermore many of the large firms/corporations are even halting their intern/mentor/fellow-ship programs due to the economic downturn with COVID-19. We want to pivot and provide a channel for the tech-abled rising workforce to promote sustainable project-based learning in their local communities.
🌱 Future Optimizations
1) Expanding our relationships:
Engaging recruiters and hiring managers from big tech companies seeking to diversify their organizations with traditionally overlooked technical and non-technical talent.
Partnering with Google Developer Experts (GDEs), Google Women Techmakers, and additional Google-affiliated employees, industry experts, and thought leaders to promote mentorship for underrepresented aspiring professionals.
Cultivating long-term relationships with small businesses and volunteers and their respective local communities.
2) Expanding our digital presence:
Going back to the basics and utilizing on the ground marketing, such as city job boards, libraries, internet cafes, word of mouth, and personal/professional connections to help Resprout reach people who do not have access to tech or are low tech-based.
Creating opportunities for digital journalism through Resprout such as blogs, newsletters, video storytelling, and small business ambassadors for volunteers interested in creative roles.
3) Expanding our technologies:
Expanding to a native mobile application for optimal user experience, scalability, and better offline performance.
Improving accessibility of Resprout platform for small business owners, supporters (consumers), and volunteers who need accommodations such as mental health resources, privacy protection based on "legal" status, and assistive technology such as accurate translations, captions, visual contrast checking, audio, and a tech buddy (for people with cerebral palsy).
V. Technical Specifications
🌱 Solution Architecture
The platform was created with our stakeholders in mind. We understand that our users may not be technical so we used most common Google Integrations within. For accessibilities, we used Google Translate to have the site be translated for our users that need accommodations. The site mock-up and prototype was designed using Adobe XD, which allowed us to understand the content structure and integrations needed. As well as having the site be translated in an audio format too. The foundation of the site was built on HTML, CSS, and JS. The site uses Google Forms for data collection. We used Google G- Suite for the admin processes. The front-end was developed using Webflow, a framework designed for non-technical users. Using Webflows framework we can easily manage our CMS database and design the most seemingless experience for our users. The intention behind that was to give our team involved in development where our non-technical members can make changes. The highest level component would be the user dashboard. The dashboard is in our future optimization that will allow our users to submit project proposals, assign tasks, schedule deliverables, chat with other users, and have other integrations from Google Digital Garage. Our domain is managed through Google Domains, and we will integrate Firebase for user authentication in the future.



🌱 Challenges, Technical Decisions, & Implementations
The main challenge was to create an open-source platform that allows non-technical members to make any changes. The front-end was developed using Webflow, a framework designed for non-technical users to design, build, and launch. Using Webflows framework we can easily manage our CMS database and design the most seemingless experience for our users. Webflow also allows us to make rapid changes very quickly and deploy after the change has been applied. The intention behind that was to give our team members equity in development. Using Webflows framework any individual can make site contributions quickly and effectively. Essentially that is our foundation for Resprout to allow non-technical individuals to make impactful contributions.



🌱 Feedback for Google Products/Platforms Used
Google Translate can be more accessible and accurate, as discrepancies in language may threaten the integrity of the message trying to be communicated, especially one as important as ours. In addition, we faced significant roadblocks when trying to find any Google resources available for implementing audio assistance. Lastly, the majority of our small business survey takers were not aware of Google for Small Business and this presents another accessibility issue, as it's not reaching those who need it the most.