BIPOC WINE MARKETING PLAN
Project Manager & Lead Marketing Consultant at The Wine Noire (Spring 2020)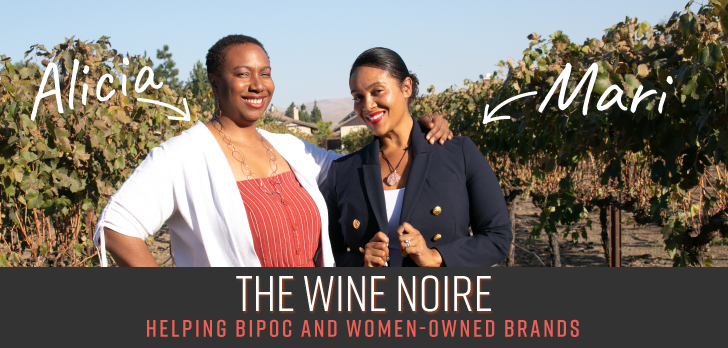 Read the full marketing report here!
I. OVERVIEW
For my capstone project in Marketing Management (MGMT 130), I led a marketing consultancy team of four as part of a semester-long internship to serve a small business client:
The Wine Noire
. They are a BIPOC & women-owned company that is an online licensed wine brokerage & consultancy that specializes in the import, export, distribution, wholesale, consulting, and soon-to-be tech solutions for women and multicultural wine brands.
🍷 Key Skills
data analysis, qualitative market research, content strategy, business development, consumer behavior, brand positioning, UI/UX design
🍷 Team & Partnerships
Consultancy team: Brooke Bashaw, Nyisha Young, and Oreoluwa Olotu
Alicia Kidd (CEO of The Wine Noire & client)
Carrie Maultsby (marketing professor & project advisor)
🍷 Timeline
Mar 2020 – May 2020 (3 months)
🍷 Technologies Involved
Software (data analysis & presentation): Dedoose, Google Slides, Microsoft Excel, Microsoft Word, and MonkeyLearn
II. MARKET RESEARCH & CONSUMER INSIGHTS
🍷 Key Opportunities for Consumer Engagement
I created this word cloud based on the frequency and relevance of keywords I found after making a summary of insights from in-depth interviews with BIPOC women consumers. I'd like to point out how COVID-19 is one of the emerging keywords that we would've never anticipated before. It shows that now is the ideal time to observe consumer behavior and see how people are coping with uncertainty. This cloud is made up of existing and past brand messages of importance to my respondents, related to wine, family and culture, and their professional lives. Key qualitative insights extracted from my data include:
COVID-19 has helped our subjects realize the importance of community and reconnecting with loved ones.
︎
"I'm just walking back from a friend's apartment after delivering a little care package for her and her kiddie. We have to take care of each other in this time, you know?" - R1
They emphasized collaboration between WOC wine entrepreneurs with other women of color (not limited to those in the wine industry).
︎ "If I ever wanted to get word out as a Black-owned business, I would try to target it to my people. It's a new topic on supporting specifically businesses within the community." - R2
They believe wine tasting events should be centered around affinity: good food and meaningful cultural themes.
︎ "If I was a wine entrepreneur, I would like to attend events during Latinx heritage month and give wine tastings in those events." - R3
🍷 Key Opportunities for Product Improvements
Wine Portfolio Evaluation:
I initially planned to do a wine taste test with my subjects, but due to COVID-19 restrictions, I decided to email them these specific images of the Wine Noire wine portfolio instead. I asked them to evaluate the design and specific elements of the bottles that resonate with them. For each brand, I've attached an insightful comment made by a different respondent.
Wine Portfolio Sentiment Analysis:
To evaluate emotional tone around comments on the images of the wine bottles, I entered data from my subjects' responses into MonkeyLearn's sentiment analysis tool. The overall score was positive with 89.8% confidence. This means the subjects I interviewed who could be potential consumers are overall satisfied with the design choices by our select wine brands. In order to make sure this analysis is valid, I counted the number of positive, netural, and negative adjectives and set phrases used to describe the individual wine brands. You can find the results as shown in the chart above. The positive words outnumber the negative by about four times, which supports the earlier sentiment analysis generated online.
🍷 SWOT Analysis
Based on the SWOT analysis, two potential action steps include:
︎Create meaningful content that ranges from latest event announcements to authentic recipes to pair with wine.
︎
Reach audience through paid advertising, online community groups, and women of color influencers.
Design and refine a program to attract talent from educational institutions.
︎Prioritize Black and Hispanic-serving institutions: foster rapport between women of color and emphasize networking opportunities.
︎
Recruit pro-bono consultants seeking to complete projects for business courses.
III. MARKET SEGMENTATION

🍷 Psychographic Segmentation
This is a psychographic segment of the wine industry I created based on insights I gathered from the women of color I interviewed. It is not based on demographics and instead contains attitudes, personality traits, and preferences of these women (late Gen Z and late Gen X). Sometimes, these psychographic elements overlap.
🍷 Consumer Personas

🍷 Customer Journey

IV. BRAND DEVELOPMENT STRATEGY
🍷 Key Objectives
Build brand awareness through strategic partnerships and content creation.
For B2B and B2C marketing strategy, a platform for optimal customer experience is essential.
Stay true to the mission statement, connect winemakers of color, and create space for wine consumers of color.
🍷 Marketing Channels
Magazine articles
Newspaper ads
BIPOC media: Twitter, Instagram, Facebook
Travel blogs
🍷 Short-Term Recommendations
Active social media engagement (Reddit communities, Facebook groups, LinkedIn posts) and digital advertisements (Instagram, Facebook)
Wine tasting at local farmers markets and other cultural events (Oakland First Fridays)
Partnerships with niche influencers with food or lifestyle accounts (1,000-10,000 followers)
🍷 Long-Term Recommendations
Search engine optimization (SEO) to increase visibility for website and retain more visitors cost-effectively
Long-term content strategy for website:
︎cultural recipes for wine pairings
︎interviews with BIPOC wine entrepreneurs
︎recaps of The Wine Noire events
User experience (UX) design and research efforts for mobile application
Incorporate themes of self-care into events and collaborate with POC artists for set dates on sip wine painting parties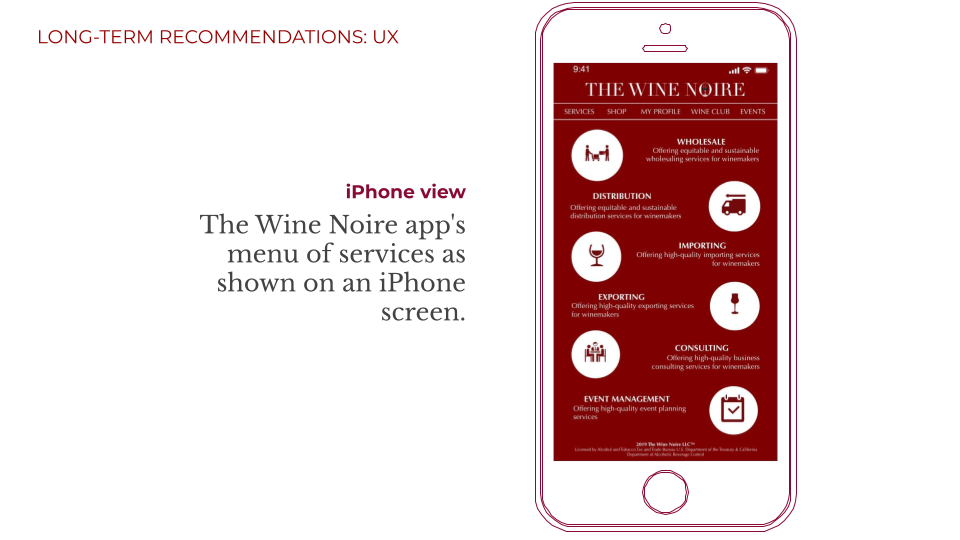 V. OUTCOMES
The Wine Noire utilized the UI design and UX copy methods from my wireframes to rebrand their

website

and increased their lead conversion rates by two-fold.

Our data-driven brand development strategy allowed them to pivot to virtual events and implement targeted ads that led to a 45% increase in their

social media

following.

My qualitative insights informed The Wine Noire to center their content around

inclusive marketing messages

and engage in strategic partnerships with fellow BIPOC women. This contributed to their growth amid COVID-19, increasing long-term brand loylaty and expanding their wine portfolio by 70%!